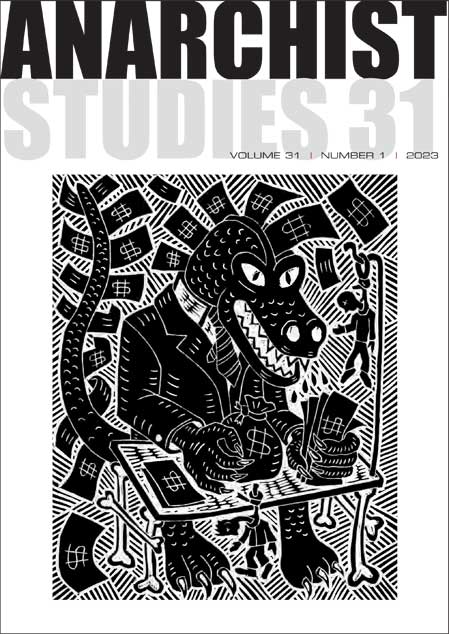 About
Anarchist Studies
ISSN 2633-8270
Anarchist Studies an international peer-reviewed inter- and multi-disciplinary journal of anarchism research which has been publishing novel, refreshing and provocative arguments for over twenty years. Shaped by the scholarship of contributors rather than editorial commitments the journal publishes research into the history, culture, theory and practice of anarchism. 'Many academic journals are interchangeable' the late, great Colin Ward remarked, 'but Anarchist Studies is full of material you will discover nowhere else'.
Co-editors
Ruth Kinna | School of Social Sciences and Humanities, Loughborough University
Matthew S. Adams | School of Social Sciences and Humanities, Loughborough University
Reviews editor
John-Erik Hansson | Université Paris Cité 
Web editor
Jim Donaghey | Ulster University
Associate editors
Constance Bantman | Richard Cleminson | Carl Levy 
Art editor
Allan Antliff
Editorial Advisors
Dave Berry | Marquis Bey | Tom Cahill | Lewis Call | Ronald Creagh | Raymond Craib | Sureyyya Evren | Federico Ferretti | Benjamin Franks | Kathy Ferguson | Sharif Gemie | Uri Gordon | Tom Goyens | Robert Graham | Clifford Harper | Steven Hirsch | Carissa Honeywell | Nathan Jun | Caroline Kalterfleiter | Ole Laursen | Brian Martin | Colleen Morgan | Brian Morris | Saul Newman | Alex Prichard | Jon Purkis | Maia Ramnath | Simon Springer | Kenyon Zimmer
We are interested in publishing work that
re-evaluates the anarchist record, considering issues of literature, art, history, culture, philosophy, social critique and political action
examines the analytical purchase of anarchism as a current of critical political action
applies anarchist principles and ideas to inform methods of research or to develop approaches to problems, issues or events
discusses, analyses, contextualises or explains anarchist actions
Recent highlights include special issues on Herbert Read (ed. Danielle Child) and George Woodcock (ed. Matthew Adams and Allan Antliff) and articles on anarchist women in Imperial Japan and contemporary anarchism and intersectionalism.
For article submission please see submissions guidelines page.
You can keep up to date with Anarchist Studies at the Anarchist Studies Blog.
'There has been a remarkable surge of interest in anarchist thought and practice in recent years. Anarchist Studies has played an important part in this revival with serious and constructive inquiries into anarchism's historical experience and animating ideas, and valuable contributions to enriching and deepening them'.
Noam Chomsky
'Anarchist Studies, with its remarkable commitment to providing a platform for critical epistemological insights, offers the reader engaging theoretical, conceptual, and methodological contributions.  The journal represents its own form of 'university'.  It reconstructs our academic culture by transcending existing modern boundaries of the sciences and other orders of knowledge, to meet the urgent demands of our particular time of crisis.'
Sho Konishi, University of Oxford