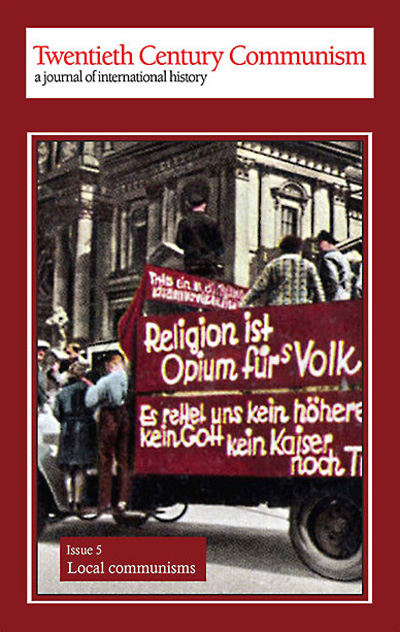 Sovietisation in Uzbekistan 1980-1991: Success or Failure?
Twentieth Century Communism - ISSN 1758-6437
Volume 2013 Number 5
Sovietisation in Uzbekistan 1980-1991: Success or Failure?
Sevket Akyildiz, Richard Carlson pages -
Abstract
There has been much literature, especially during the Cold War, that was heavily influenced by a particular discourse which argued that 'Soviet Muslims' were not integrated into Soviet society or mindset. A number of academics from the United States and the UK, despite limited access to the Soviet republics of Central Asia, have suggested that not only had the Soviet Muslims failed to integrate into the socialist model of citizenship, but that they would one day rebel against Moscow. Reflecting on the Soviet and immediate post-Soviet period, this paper argues that the relationship between Central Asians and the Soviet state was more nuanced. In fact, a hybrid Soviet-Central Asian identity evolved in the region. This paper examines the Central Asian republic with the largest population, Uzbekistan, and relying upon English-language secondary sources from the Cold War period we review a number of social problems during the 1980s. The first part of this paper examines the national and local challenges to the Soviet system in Uzbekistan and in Central Asia as a whole, and the second part looks at local factors that show that even as late as 1989-91 there was no systemic challenge to Soviet rule in Central Asia.
SORRY - you are not registered as being permitted online access to the full text of this article
You have the following options:
If you are viewing this via an institution or academic library you can ask that your institution takes out a Subscription to this journal.
If you already have a Personal Subscription please login below


Forgotten your username / password? Click here to locate


Purchase an annual Personal Subscription
PRINT + DIGITAL personal subscription (£30 / year)
DIGITAL personal subscription (£25 / year)
A Personal Subscription provides immediate access not only to the single article you are seeking, but also to all past and future articles in this journal up to the expiry of your annual (calendar year) subscription.
Purchase immediate access to this single article (UK£7.00) - Buy article Coming Soon
To cite this article
Sevket Akyildiz, Richard Carlson (2013) Sovietisation in Uzbekistan 1980-1991: Success or Failure?, Twentieth Century Communism, 2013(5), -