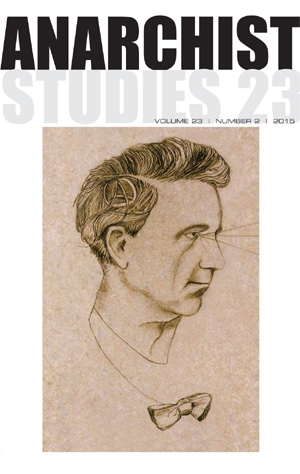 To Hell with (the contemporary commodification of) Culture!
To Hell with (the contemporary commodification of) Culture!
Anarchist Studies - ISSN 2633-8270
Volume 23 Number 2
To Hell with (the contemporary commodification of) Culture!
Danielle Child, pages -
Abstract
In 1941 Herbert Read – a British art critic, poet, novelist and political thinker – wrote an essay, to be published as a pamphlet in 'The Democratic Order' series, entitled 'To Hell with Culture'. The essay sought to criticise the capitalist co-optation of culture, whilst simultaneously calling for a functional art within a democratic society. As Matthew Adams notes in this issue, it was a peculiar essay within its series. Read focuses on art's role within society rather than the more 'immediate' (political, financial and material) issues facing British society during and after the Second World War. I came to Read's essay in 2013 after filmmaker Huw Wahl, who was making a film about Herbert Read, contacted me and requested to meet and talk about Read and his work. As a student at the University of Leeds, I had studied under Read's son – the Art Historian Benedict Read – during which time I encountered Herbert Read in his role as art critic. I had read (and written an essay on) his book Contemporary British Art (1951) and was familiar with Read's proximity to key mid-twentieth century British artists such as Henry Moore and Barbara Hepworth, in addition to the genealogy of the term 'geometry of fear' coming out of his catalogue essay to the British Pavilion at the 1952 Venice Biennale. In short, as I understood, Read was a figure central to the history of British Modernist art. Read's political writings had, for the most part, been bypassed. There was something about Read and anarchism in the background, but that was as far as my engagement with Read's political writings had travelled.
To cite this article
Danielle Child (2015) To Hell with (the contemporary commodification of) Culture!, Anarchist Studies, 23(2), -