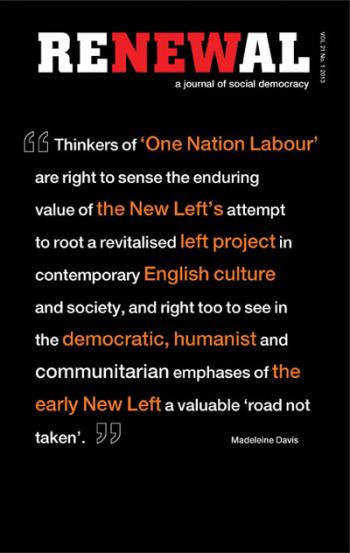 The first New Left, Blue Labour and English modernity
The first New Left, Blue Labour and English modernity
Renewal - ISSN 0968-5211
Volume 21 Number 1 (2013)
The first New Left, Blue Labour and English modernity
Jonathan Rutherford, pages -
Abstract
The first New Left, Blue Labour and English modernity.
This essay is about the first New Left and Blue Labour. They are both examples of emergent currents of thinking and action at times of political hiatus on the left. In this hiatus what counts is not policy but the energy of emerging political moods and intellectual currents. They begin to re-orientate thinking and action, reconfiguring existing political fault- lines, and once more connecting people with political agency. Policy follows.
The first New Left and Blue Labour are different in their politics, but they share a common historical thread. They mark the beginning and the closing of a specific historical period. It begins with the changes in economy and society in the 1950s, the social liberal revolution of the 1960s, and the historical defeat of the left in the neo-liberal economic revolution of Margaret Thatcher in 1979. It closes in 2008 with the self-destruction of this economic revolution and the subsequent unfolding revelations of deceit and corrupt behaviour in political, civic and commercial life.
To cite this article
Jonathan Rutherford (2013) The first New Left, Blue Labour and English modernity, Renewal, 21(1), -