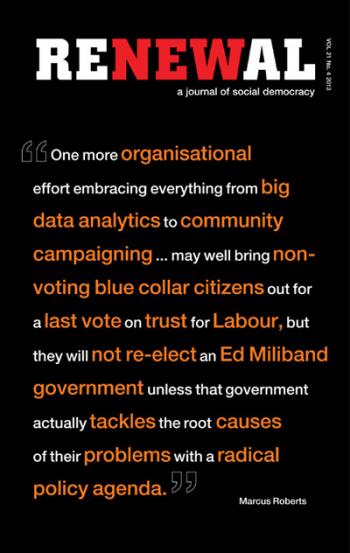 Sweden is better than this
Sweden is better than this
Renewal - ISSN 0968-5211
Volume 21 Number 4 (2013)
Sweden is better than this
Katrine Kielos, pages -
Abstract
Everyone knows that it's not what's being said about the political issues that matters. It's what can be said. Yes, politics is about 'credibility' and even more so about what is defined as 'credibility'. Ed Miliband doesn't look like a Prime Minister. He never will, unless the idea of what a Prime Minister is changes.
Ingvar Carlsson became the Prime Minister of Sweden under the worst possible circumstances. His predecessor, Olof Palme, was shot. On a cold night in February, 1986, at half past nine, walking home with his wife through the streets of Stockholm. We still don't know who did it. Or why. The theories are as many as there are Swedish crime novels.
Five years later, Ingvar Carlsson, the new leader of the Social Democrats, lost the election. It was 1991 and Sweden was in the middle of a severe financial crisis. During the 1980s, Swedish policy-makers had initiated the deregulation of many markets. Between 1983 and 1990 several deregulations of the financial sector were undertaken, all under social democratic governments. The liberalisation of loan restrictions contributed to a very rapid increase in lending. The country saw an extensive and risky credit expansion, largely concentrated in the real estate sector. In the early 1990s a fully developed banking and financial services bubble burst and between the summers of 1990 and 1993 Sweden suffered three years of negative growth. In these years, public debt doubled, unemploy- ment tripled, and the budget deficit increased tenfold. At the time it was the largest of any OECD country – more than 10 per cent.
To cite this article
Katrine Kielos (2013) Sweden is better than this, Renewal, 21(4), -