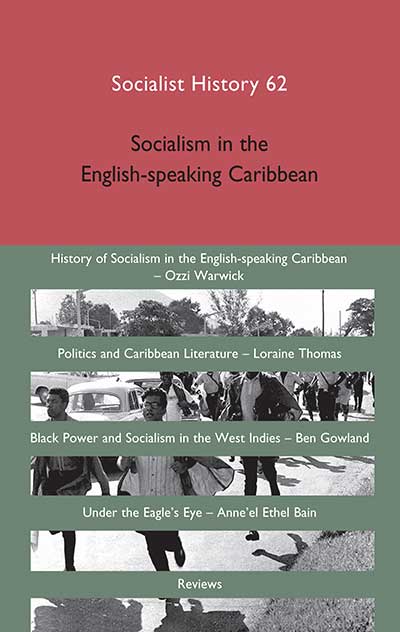 Politics and Caribbean Literature: The Case of St Vincent and the Grenadines in the Era of Independence
Socialist History - ISSN 0969-4331
Volume 2022 Number 62
Politics and Caribbean Literature: The Case of St Vincent and the Grenadines in the Era of Independence
Loraine Thomas pages 47-62
Abstract
The works of creative writers throughout the Caribbean region make a significant contribution to discussions relating to the independence movements of each nation. When mapping a nation's literature, the primary and overarching pattern is that it becomes more political in tone. Often, the writing is not only nationalist in sentiment, but it also contains radical and socialist ideas, as well as those relating to Black Power – this latter characteristic becoming increasingly prominent in the 1970s. This article shows how during the lead up to independence, Vincentian literature contained in locally produced 'little magazines' also became increasingly political in reflection of a burgeoning national consciousness. It draws attention to the effects of the Black Power Movement and radical Marxist black politics on Vincentian writers, while emphasising the significance of youth voices to political debates in the lead up to Vincentian independence. 
SORRY - you are not registered as being permitted online access to the full text of this article
You have the following options:
If you are viewing this via an institution or academic library you can ask that your institution takes out a Subscription to this journal.
If you already have a Personal Subscription please login below


Forgotten your username / password? Click here to locate


Subscribe to Socialist History via the Socialist History Society website. An annual UK print subscription is £30.00.
To cite this article
Loraine Thomas (2022) Politics and Caribbean Literature: The Case of St Vincent and the Grenadines in the Era of Independence, Socialist History, 2022(62), 47-62