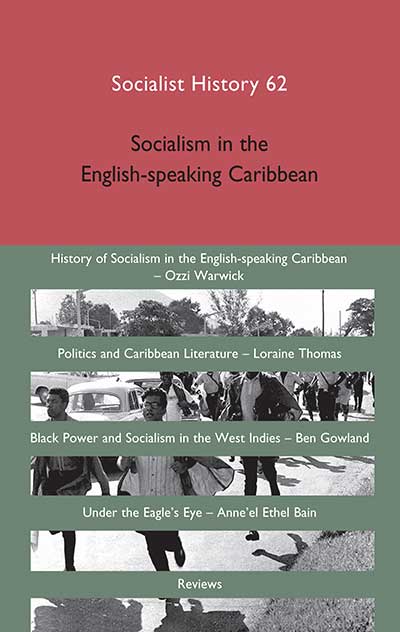 Under the eagle's eye: Cooperation as a survival mechanism among Leftist Cuba, Grenada and Nicaragua, 1979-1990
Socialist History - ISSN 0969-4331
Volume 2022 Number 62
Under the eagle's eye: Cooperation as a survival mechanism among Leftist Cuba, Grenada and Nicaragua, 1979-1990
Anne'el Ethel Bain pages 85-109
Abstract
This article explores the cooperation among leftist Cuba, Grenada and Nicaragua during the Cold War epoch. During this era the capitalist United States (US) and communist-ruled Soviet Union (USSR) battled fiercely for ideological dominance and influence on the global stage. Against this backdrop, left-leaning governments took power in the Caribbean Basin, in Cuba (1959), Grenada (1979) and Nicaragua (1979). The emergence of leftist states in the region brought this global showdown squarely into the Caribbean Basin. The paper contends that the exchanges of support between and among the three states can be explained, in part, by the antagonism of the colossus in the Western Hemisphere toward leftism in the region. Washington's counterrevolutionary strategies necessitated political, economic and military cooperation between the three left-oriented regimes.
SORRY - you are not registered as being permitted online access to the full text of this article
You have the following options:
If you are viewing this via an institution or academic library you can ask that your institution takes out a Subscription to this journal.
If you already have a Personal Subscription please login below


Forgotten your username / password? Click here to locate


Subscribe to Socialist History via the Socialist History Society website. An annual UK print subscription is £30.00.
To cite this article
Anne'el Ethel Bain (2022) Under the eagle's eye: Cooperation as a survival mechanism among Leftist Cuba, Grenada and Nicaragua, 1979-1990, Socialist History, 2022(62), 85-109