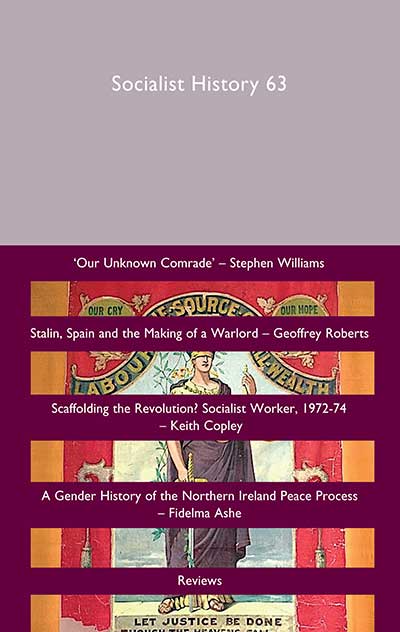 'Our Unknown Comrade': The work, influences and likely identity of 'Leon Caryll', artist and designer to the socialist press in the 1890s
Socialist History - ISSN 0969-4331
Volume 2023 Number 63
'Our Unknown Comrade': The work, influences and likely identity of 'Leon Caryll', artist and designer to the socialist press in the 1890s
Stephen Williams pages 5-32
Abstract
The 1890s saw a growth in the use of hand-drawn illustrations in the burgeoning socialist press, as proprietors and editors recognised the visual impact such images – frequently cartoons – could have on their existing and potential readership. By the turn of the century, all the main titles were commissioning work from artists who gained significant national reputations in the socialist movement. These artists often worked under noms de plume or a set of initials, although their real identities were widely known. Only one artist, Leon Caryll, never revealed his true identity, despite attempts to find out who he was. Contributing to a variety of socialist publications and organisations, Caryll offered free illustrations to any section of the socialist movement if he believed it was advancing the socialist cause. Along with a prolific output, Caryll's prominence in socialist circles was apparent when Justice, the Social Democratic Federation's weekly, accepted his masthead and drawing of 'Lady Justice' for its cover in 1893. Inspired by John Ruskin, William Morris and Walter Crane, Caryll applied their message on the indivisibility of art and labour into his work during the 1890s, thus contributing to what one writer has described as an attempt to interweave aesthetics and politics into socialist culture.
SORRY - you are not registered as being permitted online access to the full text of this article
You have the following options:
If you are viewing this via an institution or academic library you can ask that your institution takes out a Subscription to this journal.
If you already have a Personal Subscription please login below


Forgotten your username / password? Click here to locate


Subscribe to Socialist History via the Socialist History Society website. An annual UK print subscription is £30.00.
To cite this article
Stephen Williams (2023) 'Our Unknown Comrade': The work, influences and likely identity of 'Leon Caryll', artist and designer to the socialist press in the 1890s, Socialist History, 2023(63), 5-32