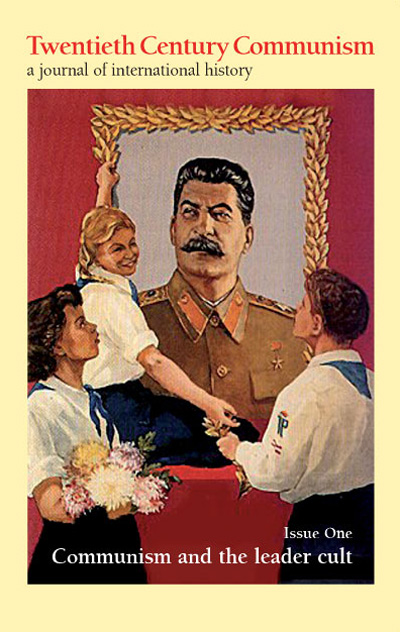 Ho Chi Minh: creator or victim of Vietnamese communism?
Twentieth Century Communism - ISSN 1758-6437
Volume 2009 Number 1
Ho Chi Minh: creator or victim of Vietnamese communism?
Sophie Quinn-Judge pages -
Abstract
In much of the literature on Vietnamese communism, the party is presented as a monolithic force with Ho Chi Minh as its standard-bearer. Focusing on the latter, this article draws on new biographical evidence to demonstrate deep fissures within the VCP, in which Ho Chi Minh himself was neither 'the decider' nor an autocrat sitting atop a well-oiled party machine. The article is structured around three turning points: 1) from the Sixth Comintern Congress (1928) to the mass arrests of 1930-1; 2) the Land Reform campaigns, 1952-6; and 3) the struggle over Soviet 'revisionism', 1963-8. The first is examined in particular detail, and continuities then demonstrated between the early divisions described and the two later episodes. While Ho Chi Minh is not to be presented as a blameless martyr, the article stresses the importance of understanding the limitations of his role in shaping the VCP's policies.
SORRY - you are not registered as being permitted online access to the full text of this article
You have the following options:
If you are viewing this via an institution or academic library you can ask that your institution takes out a Subscription to this journal.
If you already have a Personal Subscription please login below


Forgotten your username / password? Click here to locate


Purchase an annual Personal Subscription
PRINT + DIGITAL personal subscription (£30 / year)
DIGITAL personal subscription (£25 / year)
A Personal Subscription provides immediate access not only to the single article you are seeking, but also to all past and future articles in this journal up to the expiry of your annual (calendar year) subscription.
Purchase immediate access to this single article (UK£7.00) - Buy article Coming Soon
To cite this article
Sophie Quinn-Judge (2009) Ho Chi Minh: creator or victim of Vietnamese communism?, Twentieth Century Communism, 2009(1), -