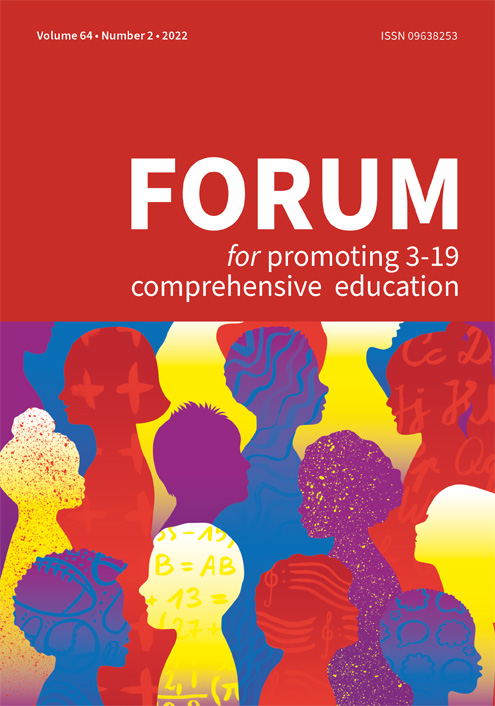 A deeper pocket?
FORUM - ISSN 0963-8253
Volume 64 Number 2 (2022)
A deeper pocket?
John White pages 114-118
DOI: 10.3898/forum.2022.64.2.12
Abstract
This brief paper welcomes the notion of local pockets of resistance while raising two problems about it. One of these concerns teachers' values and leads into wider considerations about what the underlying aims of education should be. This prepares the ground for the 'deeper pocket' of the title. This has to do with challenging the lack of official – i.e. public, not hidden – aims informing English school curricula. In this, England will soon be at odds with the three other UK nations, all of which, as from September 2022, will have aims-based curricula. A many-sided national campaign is recommended to target this weakness in the English system, working closely with more local pockets of resistance.
SORRY - you are not registered as being permitted online access to the full text of this article
You have the following options:
If you are viewing this via an institution or academic library you can ask that your institution takes out a Subscription to this journal.
If you already have a Personal Subscription please login below


Forgotten your username / password? Click here to locate


Purchase an annual Personal Subscription
PRINT + DIGITAL personal subscription (£45 / year)
DIGITAL personal subscription (£35 / year)
A Personal Subscription provides immediate access not only to the single article you are seeking, but also to all past and future articles in this journal up to the expiry of your annual (calendar year) subscription.
Purchase immediate access to this single article (UK£7.00) - Buy article Coming Soon
To cite this article
John White (2022) A deeper pocket?, FORUM, 64(2), 114-118. https://doi.org/10.3898/forum.2022.64.2.12