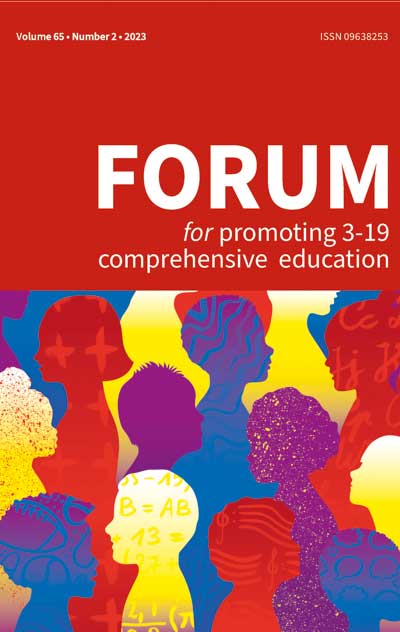 The end of surprise?
FORUM - ISSN 0963-8253
Volume 65 Number 2 (2023)
The end of surprise?
Brian Rock pages 59-71
DOI: 10.3898/forum.2023.65.2.06
Abstract
The chance to be part of educational experiences which provide dialogic spaces for the surprising or unexpected are essential for future English teachers and their pupils. The impact of neoliberal reforms on the secondary English curriculum and initial teacher education restricts teachers' autonomy and pedagogical creativity whereby teaching approaches are reduced to approved processes, leading to monologic and repetitive learning experiences for young people. This has begun a process which, as philosopher Martin Buber would argue, denies the possibility of spontaneity and meaningful expression in the classroom. In response, this paper reflects on my position as a former secondary English teacher and recently employed lecturer in initial teacher education. I set out a way forward where beginning teachers can be empowered to achieve a balance between external expectations and their own values in relation to their subject and the pedagogical approaches they employ. To achieve this, we need to provide spaces for critical reflection on so-called 'best practice' in teaching and learning, especially for those at the beginning of their career. 
SORRY - you are not registered as being permitted online access to the full text of this article
You have the following options:
If you are viewing this via an institution or academic library you can ask that your institution takes out a Subscription to this journal.
If you already have a Personal Subscription please login below


Forgotten your username / password? Click here to locate


Purchase an annual Personal Subscription
PRINT + DIGITAL personal subscription (£45 / year)
DIGITAL personal subscription (£35 / year)
A Personal Subscription provides immediate access not only to the single article you are seeking, but also to all past and future articles in this journal up to the expiry of your annual (calendar year) subscription.
Purchase immediate access to this single article (UK£7.00) - Buy article Coming Soon
To cite this article
Brian Rock (2023) The end of surprise?, FORUM, 65(2), 59-71. https://doi.org/10.3898/forum.2023.65.2.06