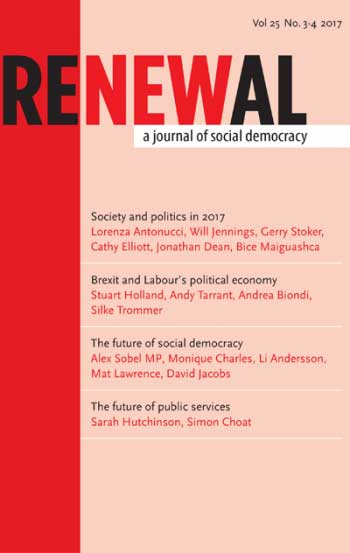 Editorial: ready for government?
Editorial: ready for government?
Renewal - ISSN 0968-5211
Volume 25 Number 3-4 (2017)
Editorial: ready for government?
Florence Sutcliffe-Braithwaite, James Stafford, pages -
Abstract
Labour transformed the electoral map in June. Though the Conservatives form the largest party in the House of Commons, Labour has turned many safe Tory seats into marginals, loosening Theresa May's grip on her own parliamentary party. Labour now needs a relatively small swing – just 3.57 percent – to win a majority of one at the next election. With Jeremy Corbyn receiving deserved praise for an energetic and astute campaign, there are now spaces of possibility in contemporary British politics that are unique in the developed world. The prospects are exhilarating; but the volume of work needed to prepare the party for government remains formidable. In this issue, we offer our contribution, focusing on Labour's new voters, European policy, the public sector, and the challenges posed by emergent forms of capitalism.
To cite this article
Florence Sutcliffe-Braithwaite, James Stafford (2017) Editorial: ready for government?, Renewal, 25(3-4 ), -