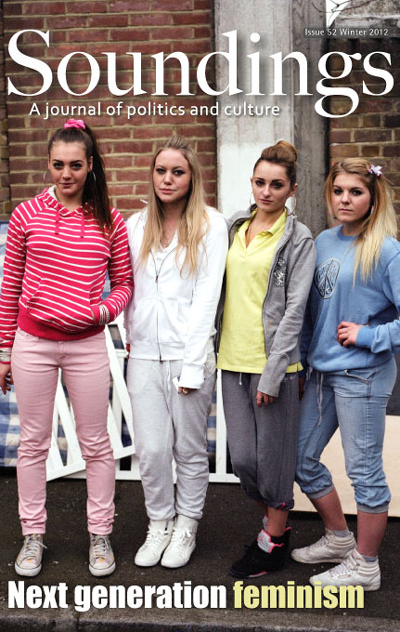 Editorial: Next generation feminism
Soundings - ISSN 1362-6620
Volume 2012 Number 52
Editorial: Next generation feminism
pages -
Abstract
Feminism was one of the most successful movements of the twentieth century, and the changes that have been achieved in women's lives over the last forty years have been massive. Feminism's cultural and social effects are seen everywhere, every day. But, as Tess Lanning points out in this issue, it is the liberal feminist strand that has been dominant in recent years - unsurprisingly, given the dominance of liberal discourses in all areas of life. In many ways what has happened to feminism has mirrored what has happened to social movements and socialism across the board during the neoliberal era: in the mainstream media and in political discourse more widely, the emphasis has been on individual empowerment at the expense of any recognition of structures of dominance, and on the promotion of celebrity spokeswomen; meanwhile activists have been turned into bureaucrats in the perpetual search for government grants, and for many choice has replaced equality. But Tess also argues that the last four decades of feminist thought and campaigning offer us a much richer range of resources if we take the time to revisit them - not just in the interests of helping to rebuild a more collective feminism but also of assisting in a wider democratic renewal.
Tess is calling for feminism and feminist campaigners to become part of a wider resurgence of political campaigning, in alliance with other movements that are embedded in people's daily lives. Alison Winch is addressing a very different concern within the new generation of feminists, one which engages with the way in which neoliberalism has encouraged women to become enmeshed in the marketing and commodification of their own bodies. As Alison points out, the relentless intrusion of the market into personal lives means that friendship groups are now being mobilised as a means of self-policing the way women present themselves, while social networks are exploited to promote brands. Sisterhood is reduced to the passing on of dieting and fashion tips.
However, resistance to these new and intense forms of pressure on women is one of the main areas of recent feminist resurgence, and Alison also points to the popular cultural resources which offer alternative sources of identification - the personal is the political still. Jon Wilson looks at the personal encounter that makes up a large part of our experience of the state. He argues that politicians conceive of the state as delivering quantifiable abstract outcomes in large numbers rather than as consisting of groups of people carrying out services and in so doing interacting with other people. A top-down delivery model that ignores these interactions does not work, as successive centralised managerial initiatives have demonstrated. We need to renew the state because it is essential to people's well-being, but we need to do it through dialogue and decentralised decision-making that can take account of the lived reality of people's everyday lives.
When people turn to the state for financial assistance, they immediately become the subject of scrutiny: issues of personal responsibility and contribution pervade the debate on welfare support. There is currently a lot of support within the Labour Party for the idea of a more contributions-based approach, which some believe will help rally wider support for the system. Kate Bell and Declan Gaffney debate with Graeme Cook on the value of such an approach. And as part of our continuing debate on how best to sustain living standards Fran Bennett reflects on some of the problems of deciding what constitutes a living wage; while Steve Iliffe and Jill Manthorpe grapple with the question of services and funding for the growing older population.
From two very different perspectives on national identity and belonging - that of Nira Yuval-Davis and of Robert Colls - a surprisingly similar argument emerges. Nira argues that neoliberal globalisation and insecurity are combining to make it difficult for national governments to act effectively, and thus are creating a crisis of confidence in conventional politics. This is what is driving both 'autochthonic political projects of belonging' - defensive formations seeking to protect their local territory - and the movements of activist citizens that are often adrift from any national polity. Robert starts from a focus on British identity and concludes that the ingredients from which it was formerly constituted - empire, parliament, industry, royalty, the church of England - are either gone, in decline or transformed beyond recognition. It is no longer clear what a British identity could be based on, just as it is no longer clear how a national government can protect its citizens against global capital. The local and particular are everywhere under siege. Does this mean we need to reinvent patriotism, or can we see our way to living with more plural forms of identification and belonging?
Elsewhere in the issue Glyn Ford looks at the new leadership in North Korea, arguing that an opportunity may be opening up for a lessening of tensions. Finally Julie Froud, Sukhdev Johal, Mick Moran and Karel Williams of CRESC look at the plight of the ex-industrial regions and, in the absence of any national government strategy, put forward principles for locally based 'guerilla' campaigns for regional redevelopment; and Alan Sitkin reports from Enfield, where some of these principles have been taken up
SORRY - you are not registered as being permitted online access to the full text of this article
You have the following options:
If you are viewing this via an institution or academic library you can ask that your institution takes out a Subscription to this journal.
If you already have a Personal Subscription please login below


Forgotten your username / password? Click here to locate


Purchase an annual Personal Subscription
PRINT + DIGITAL personal subscription (£40 / year)
DIGITAL personal subscription (£30 / year)
A Personal Subscription provides immediate access not only to the single article you are seeking, but also to all past and future articles in this journal up to the expiry of your annual (calendar year) subscription.
Purchase immediate access to this single article (UK£7.00) - Buy article Coming Soon
To cite this article
(2012) Editorial: Next generation feminism, Soundings, 2012(52), -