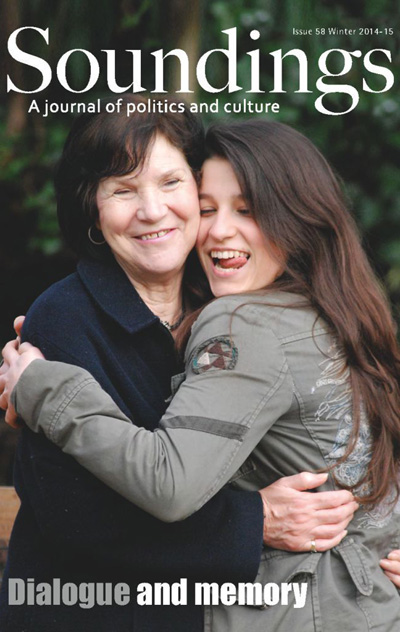 Editorial: Dialogue and memory
Soundings - ISSN 1362-6620
Volume 2014 Number 58
Editorial: Dialogue and memory
pages -
Abstract
This issue opens with three articles on feminism, generation and the need for dialogue. Alison Winch explores the possibilities for fruitful exchange between different generations of feminists, pointing out that disagreement is itself often productive of new ideas - as the history of feminism clearly shows. Nancy Fraser, in her interview with Jo Littler, discusses how her ideas have developed over time, and in doing so maps the story of the baby-boom generation of socialist feminists in the US and Europe, grappling with the need to adapt to new times without losing old principles. And Susan Douglas discusses how the women from that generation, who are now old, are having to deal with neoliberal injunctions to remain young and beautiful while living with ever-decreasing levels of security. As she argues, even in an age that some see as postfeminist, 'good, old-fashioned, grade-A sexism continues to reinforce good, old-fashioned, grade-A patriarchy'.
The Soundings editors see fostering these kinds of discussions between and across generations as one of the journal's most important activities. Older activists and intellectuals, who themselves learned from previous generations, have an obligation to pass on the best of their heritage and lessons learned; and, as Alison argues, they are also more likely to have resources to share. Younger generations have energy and new ideas, and perhaps a surer sense of the current times, but often lack access to the history of their own movements. And as Alison also points out, if we don't seek understanding through our own histories, mainstream media versions of feminism - which tend to focus on celebrities and stories of individual success - will remain dominant.
In the final article of this issue, David Slater's excellent and informative account of the work of Ernesto Laclau, who died in 2014, pays tribute to a thinker from whom we will continue to learn for a long time to come. Ernesto's work was a massive contribution to the project of rethinking old certainties while remaining politically committed to the democratic left. As David quotes him on Marx: 'any intellectual tradition worthy of respect can never believe it has reached a definitive settlement of accounts'. And Ernesto drew on the classics he himself inherited to formulate new ways of thinking - about central issues such as democracy, populism, hegemony, social movements, contingency. His body of work is a central resource for our own efforts in Soundings to find ways of linking horizontal movements to a sense
of popular national project. David closes his appreciation with this point, quoting from Ernesto's work in his book The Rhetorical Foundations of Society, published by Verso in 2014, in which he argues that the 'horizontal dimension of autonomy' will be incapable, left to itself, of bringing about long-term historical change if it is not complemented by the 'vertical dimension of hegemony' - in other words, a 'radical transformation of the state'. Equally, hegemony that is not accompanied by 'mass action at the level of civil society' leads to a 'bureaucratism that will be easily colonized by the corporative power of the forces of the status quo'. Ernesto saw the need to advance in the directions of both autonomy and hegemony: for him this was a key challenge for those of us who aim for a democratic future that gives real meaning to a 'socialism of the twenty-first century'. These insights are a small part of his outstanding legacy, which we will continue to value and learn from.
The other piece in this issue which reflects on legacy and remembrance is Maggie Andrews's look at the ways in which the first world war is currently being memorialised. No-one knows better than the British establishment how important it is to mobilise history to serve its current aims. But, as Maggie shows, history from below is becoming ever more popular, and alternative histories, including from the grass-roots, have made important interventions that have overturned previously settled readings. And, as she also points out, the loony right try to claim such areas as their own, which makes it all the more important that the left do not vacate the territory.
A second cluster of pieces engages with the downbeat nature of much contemporary political language and culture. Kristina Diprose shows how resilience is now frequently put forward as a response to living with austerity. As she argues, although we all need resilience to survive, the increasing deployment of the term in public speech is part of a wider climate in which people are urged to accept their lot - to work to make themselves more resilient rather than the world less precarious. Kristina quotes Tracie Washington of the Louisiana Justice Institute, who points out that every time she is labelled as resilient it means something else can be done to her. Resilience is something that is demanded of the poor - and as an aspiration it is profoundly pessimistic.
Dave Featherstone discusses Labour's attempt to find a focus through the ideas of One Nation Labour and a focus on localism. As a tactical move to shame the current ruling regime and reclaim the centre ground for Labour, the One Nation speech of 2012 had some merit. But its deployment as an organising principle for Labour values has over-stretched its utility, and it can often seem little more than a rebadging of Blue Labour conservatism and nostalgia. Although it is informed by a critique of marketisation, One Nation Labour thinking too often ducks questions of political antagonism, and, partly because of this influence, the party is failing to offer a political home for the many people in Britain who want to link their campaigns against injustice to a national majoritarian project. In short, this trend in the Labour Party is too pessimistic about mobilising potential support for change, and too timid in its programme.
Labour has also been disappointing in its willingness to join in populist rhetoric that seeks to separate hard-working 'ordinary' people from the undeserving and feckless poor. Sam Kirwan's article on the current government's cutting back of legal aid entitlement shows how government restrictions have been justified precisely through this kind of narrowing down of the concept of who belongs to the community and is therefore entitled to community solidarity. A politics based on communitarian ideas needs at least to be aware of the exclusions that are often justified by currently dominant normative definitions of belonging.
Elsewhere in the issue, Gerry Aiken shows how community projects can be damaged by a relationship with the state that is defined by funding and form-filling, and how regulation of community groups by such means fosters competition and market ideas within the heart of civil society. Sarah Benton reflects on the ways in which capital tries to keep wage costs down by shifting work away from employees, to instead be carried out by consumers of their services, in their own time. And we carry a further instalment of the Kilburn Manifesto - this time Michael Rustin and Doreen Massey's discussion of Britain's key role in supporting the spread of global neoliberalism.
SORRY - you are not registered as being permitted online access to the full text of this article
You have the following options:
If you are viewing this via an institution or academic library you can ask that your institution takes out a Subscription to this journal.
If you already have a Personal Subscription please login below


Forgotten your username / password? Click here to locate


Purchase an annual Personal Subscription
PRINT + DIGITAL personal subscription (£40 / year)
DIGITAL personal subscription (£30 / year)
A Personal Subscription provides immediate access not only to the single article you are seeking, but also to all past and future articles in this journal up to the expiry of your annual (calendar year) subscription.
Purchase immediate access to this single article (UK£7.00) - Buy article Coming Soon
To cite this article
(2014) Editorial: Dialogue and memory, Soundings, 2014(58), -